All
All
Product Management
News
Introduction
Enterprise outlets
FAQ
Enterprise Video
Enterprise Atlas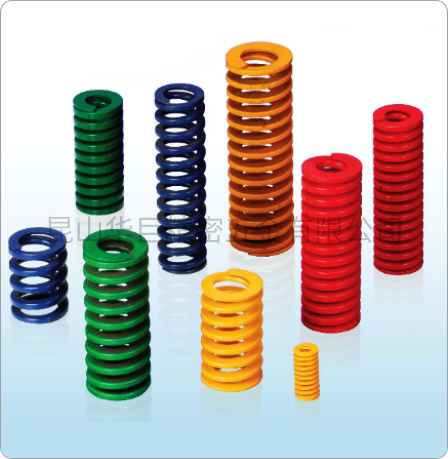 Mold springs are suitable for applications where the load is very high and the space is very limited. They are mainly used for stamping dies, various die-casting dies, injection dies and structurally sophisticated mechanical equipment. Standardization of product specifications, with reference to the standards of the United States, Japan, and Germany, providing thousands of specifications such as light load, medium load, high load, and heavy load. Welcome to the catalogue.
Specifications are available, welcome to open the mold in special specifications
JIS Standard mold spring specification sheet (according to Japanese industrial specificationsJIS B 5012)
---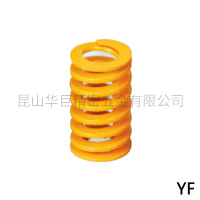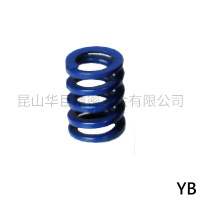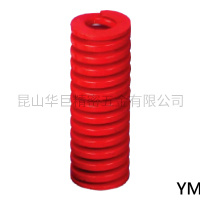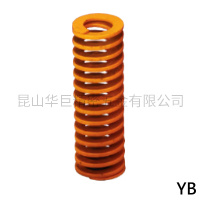 1, first calculate the maximum working stroke required by the spring.
2, when assembling the spring must be pre-stressed, so that it has internal pressure, otherwise the spring life will be reduced. Generally, the preload is 3~5% of the total length.
3. The spring must have bolts and outer guide sleeves.
4. When the punch is re-ground, the spring will increase the amount of compression. Please don't forget to grind the gasket at the same time to keep the original compression.
The relationship between the number of times the mold spring is used and the compression ratio
---
| | | | | |
| --- | --- | --- | --- | --- |
| Type of use | 1 million(%of free length) | 0.5 million(%of free length) | 0.3 million(%of free length) | Max. Deflection(% of free length) |
| Lightest Load (yellow) | 40% | 45.00% | 50.00% | Approx.58.0% |
| Light Load(blue) | 32% | 36.00% | 40.00% | Approx.48.0% |
| Medium Load(red) | 25% | 28.00% | 32.00% | Approx.38.0% |
| Heavy Load(green) | 19% | 21.00% | 24.00% | Approx.28.0% |
| Super Load(brown) | 16% | 18.00% | 20.00% | Approx.24.0% |